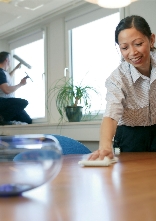 Cleaning Service Frequency?
Some of our clients retain us to provide cleaning services 7 days per week, 365 days per year. We provide nightly, weekly, bi-weekly, monthly, and 2 times per week service. Give us a call or submit a cleaning quote for pricing.

Cleaning Tip Of The Day: How To Remove Scuff Marks?
Use 3 tablespoons of TSP (trisodium phosphate) and mix with a gallon of water. Make sure you use protective equipment like rubber gloves when using this product. TSP can be found in your local hardware store. Not recommended for semi-gloss, & gloss paints. Also keep away from wood surfaces.
Our Mission Statement
Maintaining our dedication to the facility services industry, we will continue to refine our service, expand our capabilities, increase our efficiency, and elevate the superior level of customer service we now provide to create the standard of excellence in our industry!